The Grid's Changing Fast.
Is Your Building Future-Ready?
Distributed Energy Resources such as solar and wind are straining an already over-taxed power grid. Now add the rapid deployment of on-site energy storage, electric vehicle (EV) charging and building-scale cogeneration to the mix. Power utilities are working hard to enable a stable, sustainable and resilient energy future, but they can't do it alone.
The SmartGATE™ is like a 'firewall' between the grid and your building, dynamically protecting and managing the stability of your building's electrical supply, saving energy, ensuring your building is resilient and future-ready.
Case studies.
The case studies below are just a subset of our customer-base. We've installed over 300 SmartGATE's in almost every type of building. Click on an image to access the case study.

A common problem. Innovative solutions!
Like most cities, grid volatility means Seattle's buildings receive more voltage than needed,and sub-optimal power quality. Overvoltage is just one symptom of poor power quality, and a natural by-product of a Utility's need to ensure buildings receive adequate voltage despite impacts of renewable energy sources, line loss and demand fluctuations.
Legend Power® is now in Seattle. We know SmartGATE™ can help Seattle's public and private organizations, potential partner companies (and the hard-working utilities) because we did a bit of homework.
How efficient is your building?
The map below reveals the scope of Overvoltage in Seattle (and, the potential savings of energy, dollars and greenhouse gas emissions). It is based on data from Seattle 2016's Building Benchmarking program*, and Legend Power's local voltage measurements.
* Source: Seattle Light & Power
Giving you the Grid they wish you had!
Legend Power's industry-proven SmartGATE™ enables dynamic power-management of an entire building. The proprietary and patented system reduces total energy consumption and power costs, while also maximizing the life of electrical equipment. Legend's unique solution is also a key contributor to both corporate sustainability efforts, and the meeting of utility energy efficiency targets.
The infographic below shows the projected savings of wasted kWh's, resulting cost savings, Greenhouse Gas reductions and job creation if SmartGATE's were installed across the city. (Now that may not happen... but what if it did?)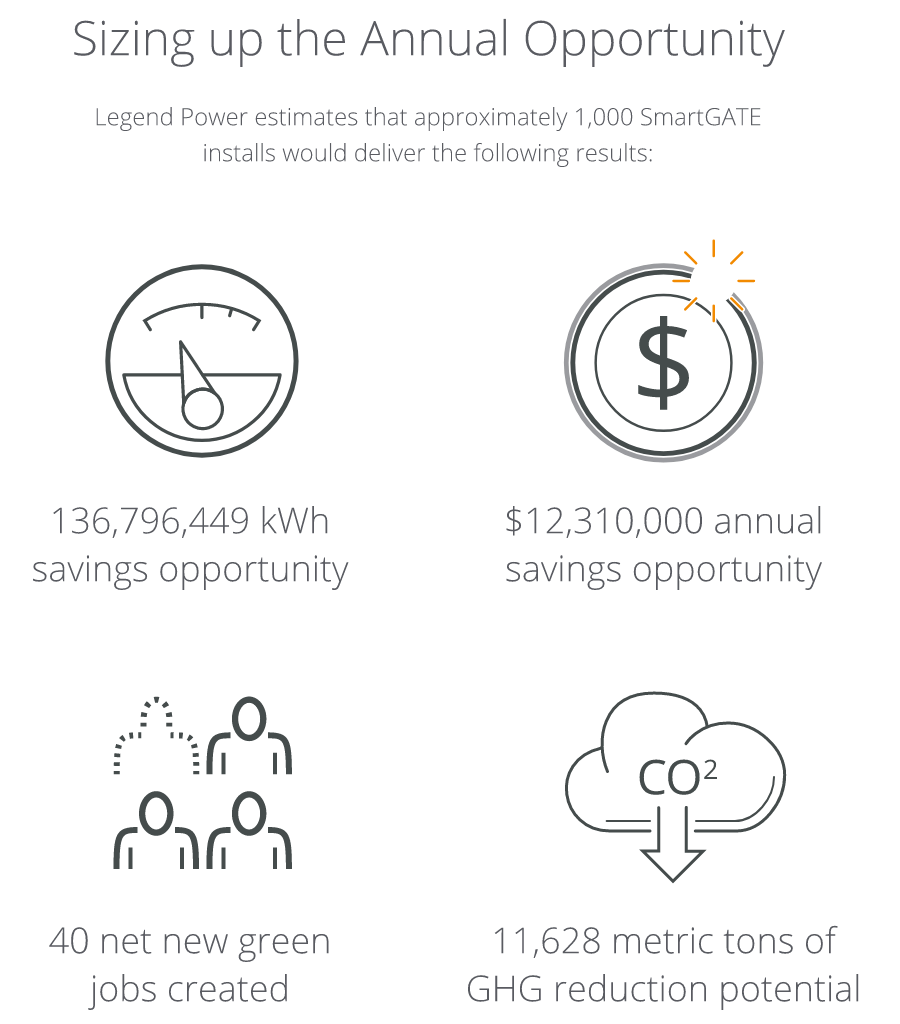 Proudly supporting the following Pacific Northwest associations:
Contact Us
Find out how your building can have a more stable (and cost-effective) grid experience!